The 2016 Oscar Shorts Are Simply Schmaltzy
If you catch a glimpse of the crowd on Oscar night, you can see eyes glaze over when the nominees for best short films are named. Live action or animation – it doesn't matter – the crowd acts as if it's time to snooze. Yet the shorts bring a lot of enthusiasm from audiences around the country. Sometimes the films are worth it, but other times, like this year, I think they're not.
The animated films in particular are a dreary bunch. They mostly ooze a humorless sincerity; there's hardly a whiff of irony, and the films are painfully simple-minded.
Sanjay's Super Team by Sanjay Patel credits both Disney and Pixar, which is not good news. The film is polished on the outside – as you'd expect – and mushy on the inside. An assimilated Asian-Indian boy in the U.S. is obsessed with his superheroes, while his India-born father wants him to go to the Hindu temple and chant. So in a flourish of sanitized fluff, the kid combines the two.
Bear Story, which played at the noted Annecy International Animated Film Festival in France, makes a cloying statement about the goodness of family. For a couple of moments, the look of a Russian film, Can't Live without Cosmos, recalls the elegant, clean and simple drawings of animation in the Soviet years that were brilliant and politically subversive. But it too collapses into maudlin clichés.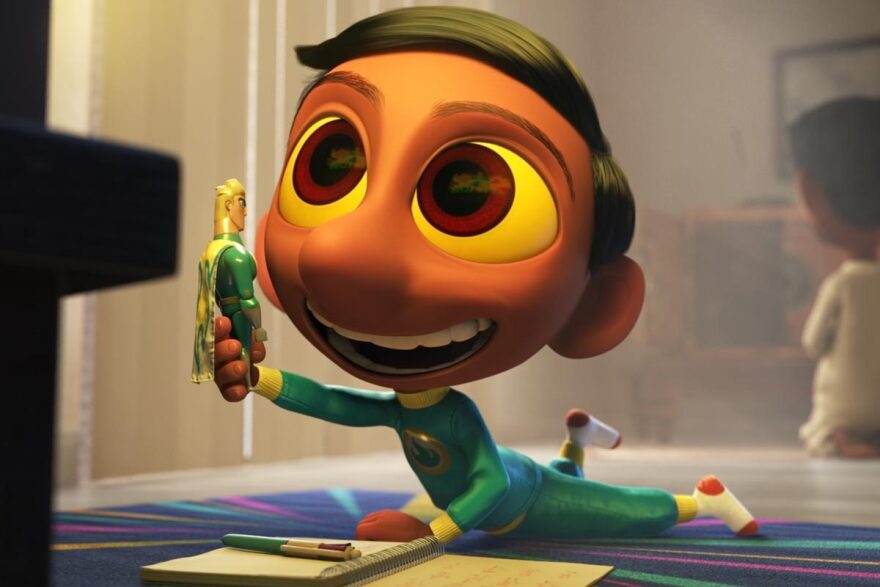 The one animation with promise is The Loneliest Stoplight. A traffic light tells its story about being placed at a remote intersection that gets busy just one glorious time. The drawing is lovely. The pictures throb like the Fleischer Brothers black and white work in the 1930s, but with a lively, hip sense of color. It's by the wonderful Bill Plympton, but again, the good look carries a simplistic, saccharine story. It's as if all this stuff is made for children who only know bland niceness, and it reminds me that the great Chuck Jones always said – truthfully – that he never made a film for children. His fabulous Bugs Bunny, Daffy Duck and Roadrunner cartoons are full of the kind of wit, insight and real character and feeling that expose actual life, and not this gooey, phony goodness with no metaphorical resonance that makes you want to bang your head on the wall.
In their overwhelming desire not to offend anyone even a little bit, these films commit genuine offenses against the possibilities of art.
It goes a little better with the live-action shorts, although like a moth to flame, they too head for soppy, nice endings. Stutterer is about a young man with a debilitating stutter who has an online girlfriend he's reluctant to meet in person. The appalling sweet ending is an insult. Jamie Donoughue's Shok, from Kosovo and the U.K., has some heft – it's about ethnic cleansing of Albanians in Kosovo. But it's not finished. It's like a feature that was simply cut off at the 20-minute mark to make it short.
Ave Maria by Basil Khalil, is the one fully realized film in the bunch. It's not simply shorter than a long film. It's concise; it's evocative; its one basic situation radiates a ton of allusions and revelations. A family of Israeli Jews in the West Bank, late on a Friday afternoon, just before the beginning of the Sabbath, crash into a statue of the Virgin Mary outside a Catholic Convent. What follows demands that everyone give up some cherished practices, and some of their rigidity about themselves and other kinds of people. The silent nuns must talk, the Jews must use a phone on the Sabbath and it takes all of them to fix another car to get the Jews back to Israel – that includes outraging the grandmother by ripping off her stocking to use as a fan belt. A lot happens in 15 minutes, and you get a good evocative and ironic feeling of both human ingenuity and human foolishness.
Explore All The Nominees For The 2016 Oscars, Including The Shorts