In Regaining Jobs Lost To Recession, Colorado Was Ahead Of The U.S.
The United States has finally regained the jobs it lost in the 2007 recession, according to numbers out from the Bureau of Labor Statistics.
Colorado's recovery has been a little quicker; economists say the state regained its lost jobs by December 2013 – seven months ahead of the nation. But the comeback doesn't mean all areas of the state are recovering evenly, or that those who lost their jobs have them back.
"Colorado is adding jobs, it is adding jobs at a faster rate in the nation, and it's recovered all the jobs it lost during the recession," said Martin Shields, an economist and director of Colorado State University's Regional Economics Center. A March analysis by Shields showed that that recovery in some Colorado cities has been anemic, while others have boomed.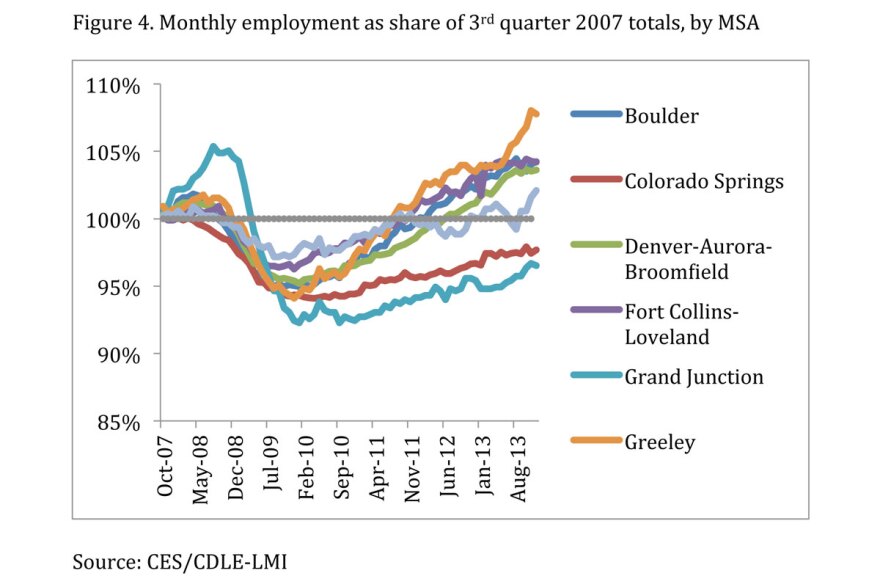 As the chart above shows, both Grand Junction and Colorado Springs have had a much slower rebound in employment levels compared with other major Colorado cities. In contrast, Greeley's economy, driven largely by the development of the Niobrara formation, has made the biggest comeback.
Ironically, the sluggishness of Grand Junction's comeback is also energy related. That part of the state saw significant gas development in the early 2000s. As more plays opened across the nation, gas prices declined. That, coupled with reduced demand from the recession, contributed to a lack of recovery in that area.
Like the rest of the nation, unemployment in Colorado remains higher than pre-recession levels. That's because the state's workforce has increased since 2007, meaning more total jobs are needed to keep unemployment low.
Also, even though there has been a job recovery in the state, some of the sectors that lost jobs haven't recovered them, said Shields.
"We see a lot of construction workers that lost their jobs that haven't been hired back," he said.
Job growth in the state, like much of the nation, has been concentrated in the health care sectors and in technical and professional areas. Food service jobs and administrative jobs have also increased. Neither of these are typically high paying, and the growth in administrative and support services jobs is largely caused by hiring from temporary help agencies.
Because job growth has been pretty slow and unemployment remains fairly high, wages are stagnant in the state.
Although, along with wages, most of the standard metrics of cost of living are also staying put, housing prices are an exception, at least in parts of the state, said Shields. So while costs of health care, groceries, and transportation may be close to 2007 levels, what people pay in mortgage or rent may be increasing, particularly in the Denver Metropolitan Area and Fort Collins-Loveland area.
"If there is one other part of the consumption bundle that is changing, I think that is housing prices," he said.
The Colorado Department of Labor and Employment will release updated employment statistics on June 20, 2014.