Colorado Edition: Regulations And Recommendations
Today on Colorado Edition: we'll look at how THC vaping products are regulated in Colorado. We'll also discuss how Aurora is regulating its mobile home parks, and learn about a hybrid online school that is clashing with its district. Finally, we'll look at an agency that is killing wild animals, and answer a listener question about the last grizzly bear in Colorado.
News of the Day:
Prison Podcast - A new Colorado podcast aims to shift the image of who prison inmates are. "With(in)" is a podcast by and about incarcerated people, along with those in and around the correctional system. It's part of the University of Denver's new Prison Arts Initiative. The podcast will cover topics such as normalizing the prison environment, challenging gang culture and promoting rehabilitation.

Postal Union - Colorado Secretary of State Jena Griswold is calling on the Trump administration not to leave the Universal Postal Union. Griswold sent a letter to the White House saying leaving the Postal Union would disenfranchize military and overseas voters. The UPU was first established in 1874 and coordinated the delivery of postal policies among nations. President Trump ordered the U.S. Postal Service to withdraw from the UPU last year. The Trump administration said at the time that unless the UPU adjusts its international rate rules, the U.S. would withdraw Oct. 17, 2019.

Driver's License Outage - A network error is halting work at all of the driver's license offices in Colorado. The Department of Revenue says the problem is preventing workers from issuing any new drivers licenses, permits or ID cards. In the meantime, residents can still renew licenses online. This is the second technical glitch to impact state services in recent weeks. Earlier this month, The Denver Post reported some counties were unable to process food stamp applications and other benefits for low-income residents due to a state computer glitch.
Vaping Illnesses And THC Products
Cases of a mysterious lung illness potentially linked to vaping continue to grow across the U.S., including one recently reported in a Weld County student. While a lot of attention has gone to e-cigarettes and tobacco vaping products, the Centers for Disease Control and Prevention says most are linked to THC products.
KUNC's Esther Honig is covering this issue and joins us to tell us about what she's found.
Parked: Part 2
Mobile homes are the most affordable housing available in many cities, including Aurora. And this year, the city of Aurora received many recommendations from a task force about how to help preserve these mobile homes.
Today, in the second conversation about the statewide reporting collaboration on mobile homes led by The Colorado Sun, we talk with Kara Mason, a reporter for Sentinel Colorado. She's been following the recommendations made in Aurora, and how they interact with the new state law we discussed on Monday's show.
Hybrid Schools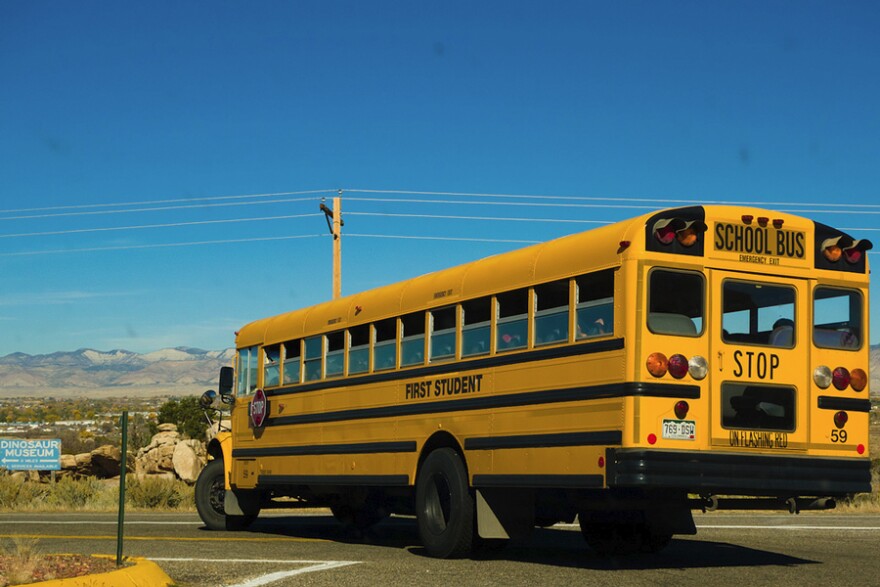 There is an ongoing battle between an online charter school and the Aurora school district, one that is raising larger questions about school district authority and how these schools are regulated.
HOPE Online is a system of hybrid schools across the state that offer instruction online and in face-to-face settings. But Aurora has tried repeatedly to close the learning centers within its boundaries and was successful in that endeavor this summer, until the state board of education intervened and reinstated a center within the district.
Erica Meltzer, bureau chief from Chalkbeat Colorado, joined us to explain.
Wildlife Killing
You might not know it, but there's a branch of the U.S. Department of Agriculture whose job includes killing wild animals, to the tune of millions each year. It used to be called Animal Damage Control. Now it's simply called Wildlife Services.
And, depending on who you talk to, the agency is controversial and secretive or well-managed and essential. From the Mountain West News Bureau, Ali Budner reports.
Curious Colorado: The Last Grizzly Bear in Colorado
We had a listener question come in from our "Curious Colorado" project: "When was the last grizzly bear seen in Colorado?"
Rebecca Ferrell from Colorado Parks and Wildlife had our answer.
Do you have questions about Colorado? Submit them here.
Colorado Edition is made possible with support from our KUNC members. Thank you!
Our theme music was composed by Colorado musicians Briana Harris and Johnny Burroughs. Other music this week by Blue Dot Sessions:
Colorado Edition is hosted by Erin O'Toole (@ErinOtoole1) and Henry Zimmerman (@HWZimmerman), and produced by Lily Tyson. The web was edited by digital editor Jackie Hai. News director Catherine Welch and managing editor Brian Larson contributed to this episode.
KUNC's Colorado Edition is a daily news magazine taking an in-depth look at the issues and culture of Northern Colorado. It's available on our website, as well as on iTunes, Google Play, Stitcher, or wherever you get your podcasts. You can hear the show on KUNC's air, Monday through Thursday at 6:30 p.m.