Low Pay, High Turnover Plagues Colorado Preschool Teachers
Sarah Marsh is a preschool teacher who works with four- and five-year-olds at a school in Erie, Colorado. She loves her job.
"The moment where a kid first zips their zipper is amazing," she said. "They feel so powerful, they can do it themselves and they just have this look and it feels so cool to be there."
But what Marsh doesn't love is the pay.
She's been teaching preschool for seven years and said she makes a few dollars more an hour than she did in high school as a hostess at a restaurant.
There's a broad salary range for preschool teachers depending on the job. School directors make an average of $20 per hour while assistant teachers only make $12. Lead teachers, like Marsh, average $15 an hour.
On average preschool teachers earn $27,870 a year while kindergarten teachers make $42,710.
"Cost is always a thing in childcare"
KUNC regularly reports on the state's K-12 teacher shortage and the role low salaries play. In May, Marsh attended KUNC's Java with a Journalist event and shared her frustration that preschool teachers aren't being including in the coverage, despite the important role they play in a child's education.
Marsh describes her average days at work as very busy. She teaches about 10 lessons a day, from music and reading to teaching students how to deal with their emotions. Marsh tracks students' growth and conducts assessments to regularly inform parents of their progress.
Since the kids are young, she must also feed and help them with the bathroom.
"I often feel disrespected and not valued for what I do. Where we serve this young population and we're the people making it possible for like 80 percent of our workforce to be at work," said Marsh.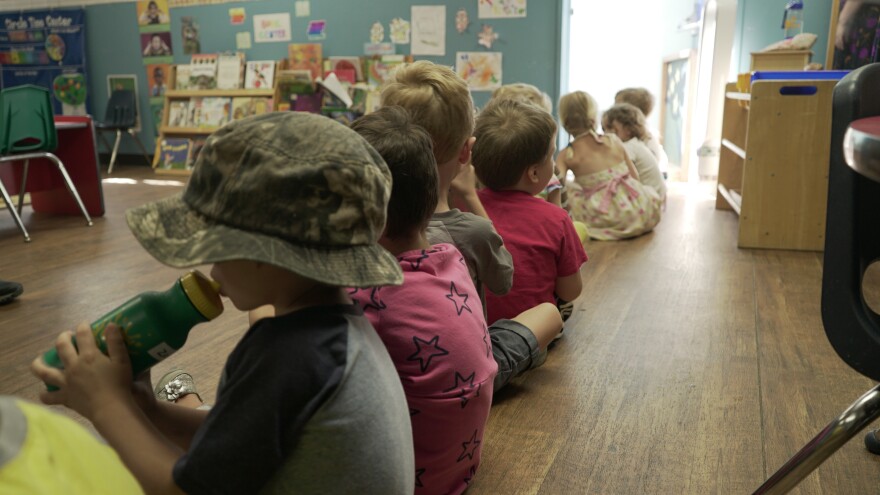 While teachers make very little, the cost of preschool is very high. At Young Peoples Learning Center , a community school in Fort Collins, parents pay an average of $1,000 a month.
About 70 kids attend the preschool every day so the preschool makes about $850,000 a year. But the state mandates that preschool classroom have one teacher for every eight, 10 or 12 kids depending on their age.
Heather Griffith, owner of Young Peoples Learning Center, said she pays her teachers between $11 and $16 an hour - and that adds up. Between payroll, supplies and administrative costs, she said her profit is only about 10 percent.
"Cost is always a thing in childcare. We don't pay teachers enough. But we can't charge parents more because they don't have it. So, that's always a balancing act," said Griffith. "It's super tough for everybody on all sides."
"Big flaw in the system"
There are different types of preschools in Colorado.
The Colorado Preschool Program is a state-funded, district-run program intended to serve preschool-aged children in Colorado at risk for starting elementary school unprepared. There is no fee for families that qualify, but as of 2014, only 28,360 children are eligible each year.
Head Start is a federal program for children from low-income families, covering from birth to age five.
There are also community preschools, like Young Peoples Learning Center, where Head Start families may enroll, but most parents pay tuition.
Teachers at community and Head Start programs often make less money than those that teach at public schools.
Diana Schaack, assistant professor at the University of Colorado Denver's Human Development and Family Relations Department, said there is a real crisis in Colorado and nationally.
"We are driving more and more teachers out of the classroom, into different fields because they can't afford to stay in the classroom," said Schaack.
Schaack said about a third of the educators are on public assistance and a quarter have a second job. Forty-five percent report struggling to make ends meet.
Depending on the preschool position, the turnover rate can be as high as 44 percent. Schaack said this has detrimental consequences for young kids. The knowledge and skill teachers bring to their work is the key ingredient in providing high quality education and preparing kids for kindergarten and beyond.
Schaack said research shows for every dollar spent on high quality preschool give society an eight dollar return on investment that comes from savings in remedial and special education, other social services and even a reduction in crime.
"Investing in young children is really an investment in future workforce productivity," said Schaack.
Unfortunately, increasing teacher pay is not as simple as raising preschool tuition.
"There's a really big flaw in the system. Parent fees alone are absolutely not enough to cover and fund quality preschool," said Schaack. "It's just impossible."
"We have to find a solution that works"
Jennifer Stedron is the executive director of Early Milestones Colorado, a nonprofit dedicated to children from birth to age eight. The organization looks at health and well-being, learning and development and family support.
Raising preschool teacher pay can be complicated but she said there are a lot of interesting approaches, like treating pre-K as a grade and tying teacher education and pay level to the public-school system.
Stedron said part of the problem is that Colorado's school system constitutionally only applies to k-12 education.
"Even though school districts understand the children that go through pre-K are really way, way better prepared for kindergarten, do better third grade tests, etcetera," said Stedron. "We don't have a system in place that sort of changed with the knowledge and with the evidence base."
Other communities would like to support teachers through local tax initiatives.
In November Summit County residents will vote on a measure to increase property taxes to raise $9,000,000, about a quarter of which would fund early childhood care and learning.
But the measure will be competing with Amendment 73 , a statewide tax question that would raise income taxes for the state's top earners - including individuals making over $150,000 a year and corporations.
If Amendment 73 passes, it could raise up to $1.6 billion in education funding for school districts to use at their discretion. A small portion of that would help fund early childhood education.
Stedron said people need to understand that even though teacher pay is low, the work they do is very important.
"These are really, really, critical years for kids but families can only afford so much and all kids need it," she said. "We have to find a solution that works and really values those years and the really, really important adults that are taking care of our children and teaching them."
As a preschool teacher, Sarah Marsh agrees with Stedron. She needs people to understand how critical her job is to a child's future success.
After working in various preschools for seven years, Marsh finally has a job that offers partial health benefits and gives her almost two weeks of vacation a year. She just wishes she could make more money.
"People don't realize we work all year long. People don't realize we do a full curriculum. People don't realize everything that goes into what we do, and I really want people to know," said Marsh. "I want it to be important because it is."