KUNC's guide to Election 2012 in Colorado and the Colorado vote. Additional guides include a detailed look at Amendment 64, Amendment 65, and a look at Amendment S. You can find our archive of national election coverage here.
Aurora Positioned As The Linchpin In The 6th Congressional District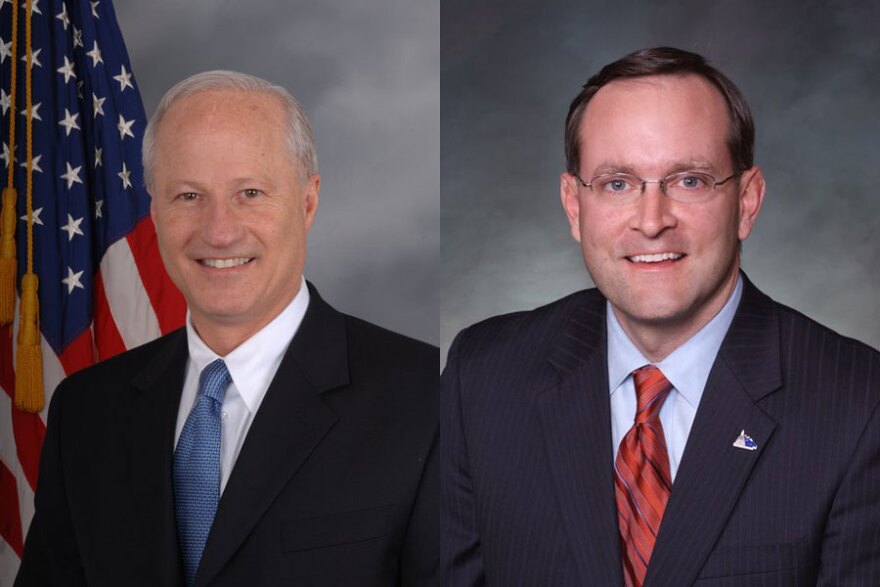 For the 6th Congressional district, the big game changer is Aurora. In redistricting, the new boundaries take out a big chunk of Republican Douglas county to the south and replaced it with the more working class and Democratic north Aurora.
Incumbent Republican Congressman Mike Coffman points to what he thinks are his secret weapons though in a recent ad.
Coffman Advertisement: "When I grew up here, Aurora was a military town, middle class families, the backbone of America."
http://youtu.be/oRqwSlXRwaM
Coffman still lives in Aurora and the mayor there recently endorsed him. Aurora still has a lot of military retirees, and Coffman plays up his military service in Iraq and his seat on the House Armed Services Committee.
"He's a tremendous campaigner, he matches the district with his Aurora background. In many ways, if this was going to become competitive, the best Republican candidate is there to run," says Dick Wadhams, a three decade veteran of Republican politics. He says Coffman can appeal to all sides.
Coffman's challenger State Representative Joe Miklosi, has a big hurdle to overcome; name recognition.
"For those who don't know me, I'm Joe Miklosi. My wife Jennifer and I live in south Aurora and I'm the Democrat running for United States Congress..." That was his introduction in a campaign appearance recently at an Aurora senior center.
Miklosi just moved to Aurora, but he has an Aurora strategy too. It hinges on the Democratic voters there. It also hinges on painting his opponent as an extremist.
"He's focused on radical issues like personhood, the Paul Ryan Medicare destruction bills and outlawing abortion even for rape and incest."
http://youtu.be/QCsTkaBqrco
Miklosi points to Coffman's vote for Republican Party Vice Presidential candidate Paul Ryan's budget. Miklosi says it would destroy Medicare while Coffman says it would make the program more solvent.
Democratic State Senator Morgan Carroll says it might not be so easy for Coffman to win over the district's new voters. She represents many of them, in north Aurora, which voted overwhelmingly for President Obama in 2008. She says her constituents may not forgive Coffman for some of the positions he's taken in Congress.
"Those same positions, to the extent people are voting issues, are going to be a much tougher place for Coffman to be in the new Congressional District 6."
Coffman says some of his priorities will change because the geography in the old district was different. "What kept me up at night were wildfire in the mountain areas and water issues in the southern suburbs. What keeps me up at night in the new district is the poverty in north Aurora."
Coffman has been talking a lot about issues he hopes will appeal to the new mix of voters in the 6th district, like the challenges of working class families. Miklosi is too. He talks about making Colorado the "new energy economy."
Both national parties are betting they have a good chance in the 6th. In the weeks leading up to the election, they plan to spend about five million dollars in television ads on the race.