KUNC's Colorado Edition: 'Tis The Season To Be Running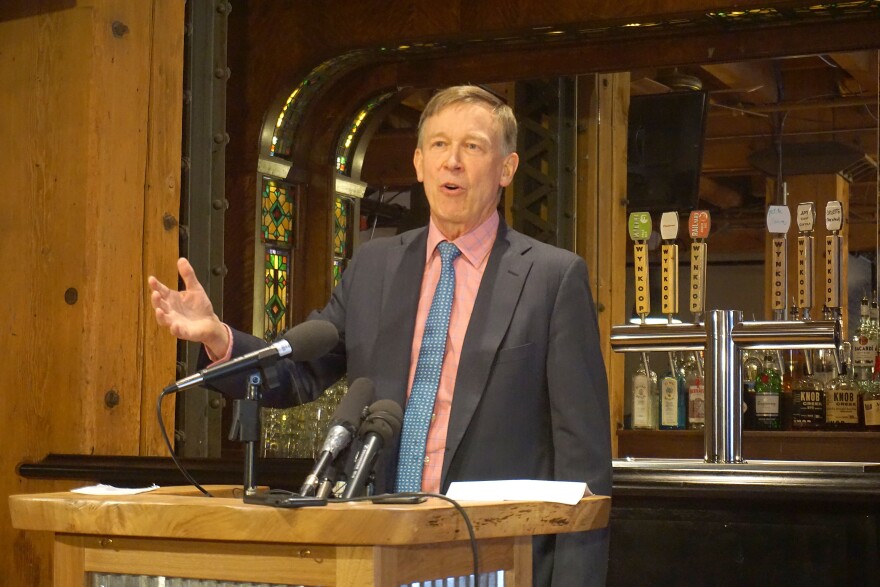 In this week's Colorado Edition, we look at the prospects for Colorado's former governor as he enters the 2020 presidential race, talk civil discourse with 1A host Joshua Johnson and get a peek behind shed door of Nederland's most famous frozen resident.
The big news of the week involves Colorado's former governor, John Hickenlooper, who is now a 2020 Democratic presidential candidate. On March 6, Hickenlooper used the backdrop of the brewpub he started more than 30 years ago to speak to reporters about why he's running for president. Scott Franz was there and has more.
Hickenlooper is considered a long shot in the sizable list of Democrats seeking to replace President Trump in 2020. Among his challenges are raising money and name recognition. Kyra Buckley and Matt Bloom have more on that.
The battle over a controversial citizenship question on the 2020 census may have profound economic implications for Colorado and other parts of the Mountain West. That includes everything from government funding to additional representation in Congress. From the Mountain West News Bureau, Ali Budner gives us the breakdown.
The 1A team was in Greeley this week, broadcasting their show from KUNC's studios for a couple of days. They held a panel discussion Thursday evening on oil and gas development along the Front Range, part of a two-year collaboration called 1A Across America. To learn more about this initiative, Erin O'Toole chats with Joshua Johnson, the host of 1A.
Every March, the mountain town of Nederland hosts a festival in honor of one of its most famous "residents" — the frozen corpse of Bredo Morstoel. The annual Frozen Dead Guy Days features three days of coffin races, ice carving and a polar plunge. But for one man, it's a year-round event. Stacy Nick rides along with Brad Wickham, caretaker of Grandpa Bredo, and brings us the story.
A new film from Germany, The Invisibles, is about young Jews who lived out the Nazi period in the very center of that country. KUNC film critic Howie Movshovitz, who teaches film and television at CU-Denver, says the film unearths yet another story about that terrible time.
Colorado Edition is made possible with support from our KUNC members. Thank you!
Our intro music is "Remember Me" by Colorado musician Kalatana. The midshow break is "Bling Bong" by Robbie Reverb. Other music this week by Blue Dot Sessions:
"Lamplist"
"Open Flames"
"Gentle Son"
"Blue Jay"
"The Poplar Grove"
This episode was hosted and produced by Karlie Huckels and assistant news director Erin O'Toole. Digital editor Jackie Hai handled the web. News director Catherine Welch and managing editor Brian Larson contributed to this episode.
KUNC's Colorado Edition is a weekly look at the top stories from our newsroom. It's available every Friday on our website, as well as on iTunes, Google Play, Stitcher or wherever (RSS) you get your podcasts. You can hear it on the air every Sunday at 9 p.m. on KUNC.