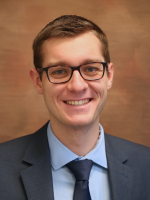 Alex Hager
Reporter, Colorado River Basin
Email: alex.hager@kunc.org
Alex is KUNC's reporter covering the Colorado River Basin. He spent two years at Aspen Public Radio, mainly reporting on the resort economy, the environment and the COVID-19 pandemic. Before that, he covered the world's largest sockeye salmon fishery for KDLG in Dillingham, Alaska.
Alex has a journalism degree from Elon University, where he spent four years working for the student newspaper and TV station. While at Elon, he also worked as a sports correspondent for the Burlington Times-News, covering ACC football and basketball as well as Carolina Panthers NFL football.
When he's not in the office, Alex enjoys hiking, practicing Spanish, playing basketball, and reading poetry. He was born and raised in Connecticut.
The unprecedented declaration of a water shortage in the Colorado River system mostly means less water for Arizona farmers for now, but cutbacks to cities are likely coming soon.

The federal government declared a water shortage for much of the Southwest last week, resulting in the first ever mandatory cutbacks for some who draw from the Colorado River. As two decades of drought, increased demand and climate change cut deep into the West's water supply, the region is looking ahead to a future where supplies might drop further still.

Federal officials declared a first-ever water shortage for the lower Colorado River, triggering mandatory cutbacks for some users. Ongoing drought across the West, increased demand and the wide-reaching effects of climate change have steadily reduced water levels in the nation's largest reservoirs. Usage restrictions will begin in January, and are expected to be felt most sharply by farmers in Arizona.

About 80% of Colorado's water falls on the western side of the state. But about 80% of Colorado's people live on the east side of the mountains. Because of gravity, that water doesn't flow to them naturally. Instead, Colorado's heavily-populated Front Range relies on a massive plumbing system to keep drinking water flowing to its taps.

As the Western U.S. steels itself for another summer of dry, fire-prone conditions, some are turning their attention to recovering from last season's blazes.

When it comes to water in the West, a lot of it is visible. Snow stacks up high in the mountains then eventually melts and flows down into valleys. It's easy to see how heavy rains and rushing rivers translate into an abundance of available water. But another important factor of water availability is much harder to see.

Major wildfires have burned through the Western U.S. in 2020, breaking records for their scale and damage. As firefighters tamp down their immediate effects, those who live nearby are coming to grips with the lingering danger of wildfires. Even long after the flames are gone, residents face a serious increase in the threat of flooding.