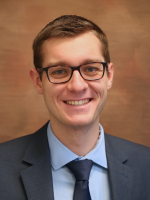 Alex Hager
Reporter, Aspen Public Radio
Alex is a reporter for Aspen Public Radio. He came to Aspen from KDLG, the public radio station in Dillingham, Alaska. There, he served as a "fish reporter," producing nightly broadcasts for a fleet of boats in the world's largest sockeye salmon fishery.
Before his time in Alaska, Alex spent four years at Elon University in North Carolina. There, he was a reporter for Elon News Network, where he covered just about every beat for just about every medium. While at Elon, Alex also worked as a sports correspondent for the Burlington Times-News, covering ACC football and basketball as well as Carolina Panthers NFL football.
When he's not in the office, Alex enjoys hiking, practicing Spanish, playing basketball, and reading poetry. He was born and raised in Connecticut.

When it comes to water in the West, a lot of it is visible. Snow stacks up high in the mountains then eventually melts and flows down into valleys. It's easy to see how heavy rains and rushing rivers translate into an abundance of available water. But another important factor of water availability is much harder to see.

Major wildfires have burned through the Western U.S. in 2020, breaking records for their scale and damage. As firefighters tamp down their immediate effects, those who live nearby are coming to grips with the lingering danger of wildfires. Even long after the flames are gone, residents face a serious increase in the threat of flooding.