KUNC's Top 10 Colorado Stories From 2019
From Colorado history to water scarcity, outdoor recreation to the marijuana industry, KUNC reporters have been working all year to bring you local stories from around the state.
We look back at the top 10 most-viewed stories on KUNC's website in 2019.
#10 - What Happened When The Colorado KKK Tried To Build A Dam
There are some ugly parts of history that would be easier to forget, and Colorado's history is no exception. KUNC's Luke Runyon came across a lesser-known moment in the state's water past, and the century-old structure that stands as a reminder of it.
#9 - Archaeologists Find Evidence Of Human Habitation In The Rockies Stretching Back 9,000 Years
Archaeologists studying a prehistoric site in Golden, Colorado, found that people lived there thousands of years earlier than previously thought. As KUNC's Rae Ellen Bichell reported, the site is called "Magic Mountain" after an amusement park that used to own the land back when excavations started in the 1950s.
#8 - 'I'm Painting The Great Outdoors:' Ski Map Artist Reflects On Career
You know those ski maps that you'll find at resorts? Artist James Niehues has been designing those for decades. Colorado Edition met him in his studio outside of Denver, and spoke with him about what it's like to craft the maps, and what they mean to skiers.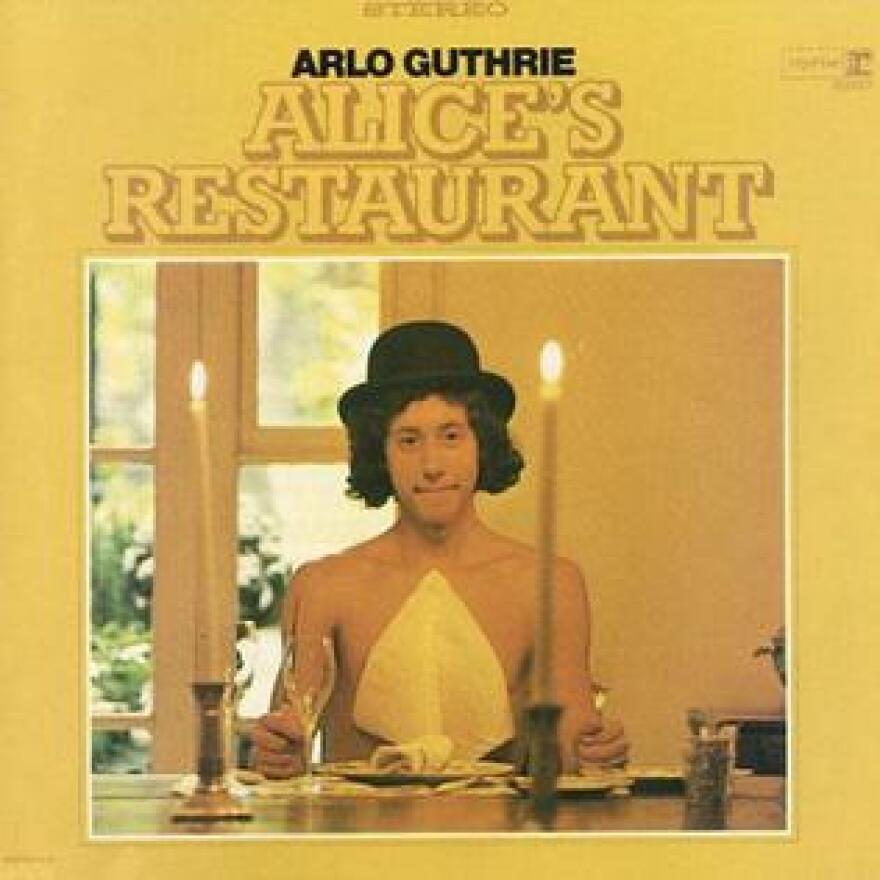 #7 - How Arlo Guthrie's 'Alice's Restaurant' Became A Thanksgiving Classic
On Thanksgiving, radio stations around the country play Arlo Guthrie's 1967 "Alice's Restaurant."
But why is this 18-minute song about littering and Vietnam considered a Thanksgiving song?
KUNC's Colorado Edition put that question to Margot, music host from our sister station 105.5 The Colorado Sound.
#6 - High Snowpack Could Temporarily Stave Off Colorado River Water Shortage
Last winter, it looked like high snowpack in the southern Rocky Mountains would likely stave off a shortage declaration in the Colorado River watershed in 2020, relieving pressure on water managers attempting to navigate future scarcity.
#5 - 'This Is Kroger Now:' Union Says King Soopers, City Market Strike Likely Sooner Than Later
In March, the union representing thousands of King Soopers and City Market employees in Colorado came close to calling a strike while bargaining for better pay and health care benefits. KUNC's Matt Bloom provided continuing coverage of the negotiations and the deal that was reached.
#4 - One Small Colorado Town Ran Out Of Water. How Did It Happen?
Talk in the Colorado River Basin of impending water shortages has created a sort of anxiety in pockets of the West. It's a feeling that one day water will become so scarce, whole communities will see their faucets turned off. That hasn't happened on a wide scale — yet. But as KUNC's Luke Runyon reported, one small town in western Colorado got a taste of that possible future.
#3 - How A Little-Known Radio Station In Fort Collins Might One Day Save The World
WWV, one of the oldest radio stations in the world was born 100 years ago. It's a part of the National Institute of Standards and Technology, which is America's keeper of many measures. For generations, WWV has been telling the time, down to the second. KUNC's Michael de Yoanna shared the story of how this station could one day save the world.
#2 - Seven Years After Legalization, Colorado Battles An Illegal Marijuana Market
When Colorado voters legalized recreational marijuana in 2012, advocates said it would wipe out the underworld of drug dealers. But in the spring, Fort Collins police have seized hundreds of illegally grown marijuana plants. As Esther Honig reported for KUNC, the black market is now so big, it's stealing business from legal cannabis sellers.
#1 - Meet The Colorado Man Who Killed A Mountain Lion With His Bare Hands
In February, a Colorado man fought for his life in the foothills outside Fort Collins. With nothing more than rocks and his bare hands, Travis Kauffman killed a young mountain lion that sprang an ambush attack while he was trail running. The incident captured attention around the world and quickly embedded itself in local folklore. KUNC's Luke Runyon sat down with Kauffman for the story behind the attack.