KUNC is here to keep you up-to-date on the news about COVID-19 — the disease caused by the novel coronavirus — Colorado's response to its spread in our state and its impact on Coloradans.
Emergency Preventative Housing Begins For Homeless Population in Denver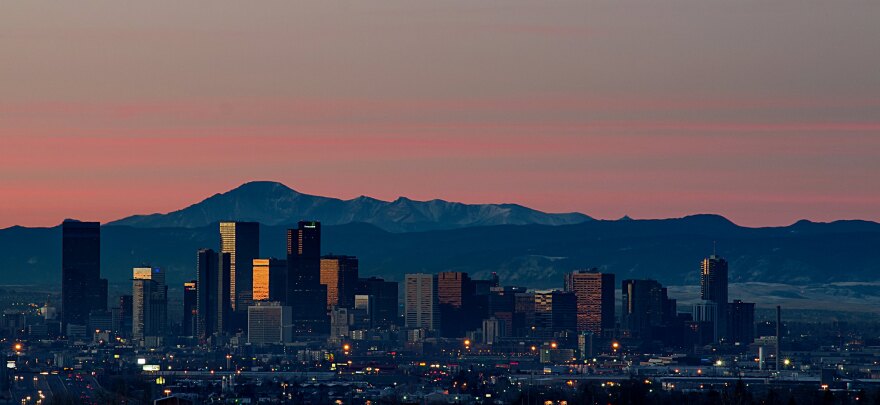 Some individuals experiencing homelessness in Denver will finally have a home base where they can shelter in place while waiting out the coronavirus pandemic.
The City of Denver partnered with a number of service providers to secure motel and hotel rooms for people at high risk for bad outcomes from coronavirus. This includes people 65 years and older, as well as those with underlying health issues like chronic respiratory illnesses and immunocompromised individuals.
Proactive measures
Laura Brudzynski, the deputy director of 0perations for the city's Department of Housing Stability, says the motel rooms, dubbed "protective action" rooms, are a proactive effort by the city to give people without a home a realistic option to comply with the stay-at-home orders enacted at city and state levels.
She said the city is partnering with service providers to "connect people who might be high risk, but may not be exhibiting symptoms, to protective action rooms."
The idea is to give people who are not yet sick the opportunity to distance themselves from others before the disease gets a foothold in shelters.
The Colorado Coalition for the Homeless is one of the advocacy groups helping to organize the protective action rooms. Spokeswoman Cathy Alderman says they had been working with the city for several weeks to find a viable alternative to crowded shelters.
"In an effort to prevent and the virus among that population, we are moving people who are at high risk out of those congregate shelter settings, into places where they can be alone, and not subject to the virus spread," Alderman said.
Protecting the most vulnerable first
The first 75 guests moved into protective action rooms on Wednesday. They were all either senior citizens or people in treatment for chronic respiratory illnesses. All had been staying at the emergency shelter that opened at the National Western Center on April 9. The program will soon be extended to guests at other shelters.
Alderman estimates that up to 35% of the shelter population in Denver is elderly.
"We're starting with 65 and older just because that's one of the easiest ways to start identifying somebody's potential risk for health complications. But we're also putting measures in place to identify people that are immunocompromised. So it's an evolving process," she said.
The city and its partners have secured over 700 protective action rooms across two facilities and are actively seeking more. This stock of rooms is separate from the city's "activated respite rooms" — also a fleet of motel and hotel rooms — which are for medically referred patients who already have symptoms of COVID-19 or other communicable diseases and need a place to recover.
The city now has more than 220 of those respite rooms available. On a recent night, 138 of them were occupied.
Alderman says some motel and hotel operators have been reluctant to sign on the respite room program because of the risk involved with housing the sick — whether they have coronavirus or not. She said that the protective action room program "was another way to address other critical needs during this crisis, and also address some of those concerns that the hotel motel operators had about trying to house people that were sick."
A growing consensus
In recent weeks, a group of homeless rights advocates in Denver, Boulder, Fort Collins and Grand Junction filed a complaint against the Colorado Department of Public Health and Environment demanding immediate, private housing for all who need it during the pandemic. They say the CDPHE has an obligation to protect the health and safety of all Coloradans, which in this case means providing safe, private housing.
Jason Flores Williams, an attorney representing the group suggested a solution. "There's abandoned space and housing in Denver and around the state of Colorado — more than enough to house people during the crisis," he said.
He hoped the lawsuit would force the obvious solution that "people should be put into the house, hotels, sanitary abandoned buildings, and given the opportunity to protect themselves by self quarantine."
The city of Denver is not a defendant in that lawsuit, and there is no evidence that the new protective action rooms there are a response to the legal action. But both developments reflect a growing consensus that finding housing for homeless populations in the state during the coronavirus pandemic is an ethical and public health imperative.
Urgency builds
At least 58 individuals experiencing homelessness have tested positive for COVID-19 in Denver, raising concerns that shelters might see an outbreak.
Advocacy groups in Denver had been talking with the city for weeks about finding private motel rooms to replace crowded shelters. But the first facility did not become available until this week.
Alderman described a rapidly shifting situation for the city's homeless services infrastructure. "It's been (like) putting a really big puzzle together," she said. "Every day we're learning something new."
She said an impetus for launching the protective action rooms was the new information coming out about how coronavirus spreads. Asymptomatic transmission is very dangerous for high-risk people staying in the shelters "because they can be sleeping right next to somebody who's not coughing, who's not experiencing shortness of breath, but might be carrying the virus," she explained.
'These rooms are meant to be their homes'
Organizers hope the protective action rooms will serve a specific purpose.
"We are asking people to use these rooms as if it was their home," Cathy Alderman said. And guests should "abide by the same guidelines that everybody else is in terms of staying in unless you need to go out for some kind of essential service."
People can gain access through the existing shelter system. The first referrals came from the National Western Complex emergency shelter. Soon the Colorado Coalition for the Homeless' Stout Street Clinic will start referring their high-risk patients to the program, as well as other shelters and healthcare providers like Denver Health.
The program provides an array of services to guests, starting with help getting moved in.
"We are working on providing people with communication tools. So if they don't have a cell phone, we're trying to get them a cell phone and make sure that they're not disconnected from the world," Alderman said.
Basic cooking supplies and meals will be provided, as well as on-site primary medical and behavioral healthcare and case management services. Alderman says recreational material, like books or magazines, and movies, will also be provided. Regular housekeeping services will be provided by the host facility.
How long guests are welcome in these temporary homes is open ended.
"People will be able to stay in the protective action rooms for the duration of the emergency," Brodzynski said.
Paying for the program
Upfront costs for these protective action rooms is largely being borne by the Colorado Coalition for the Homeless, with the expectation that reimbursements will be forthcoming. The city and state will ultimately cover 25% of the tab for this program, while the federal government — through FEMA — will pick up the rest.
Alderman said her organization has also been granted flexibility to use money from some of their existing grants and contracts with the city to cover this crisis response.
Expansion ambitions
The program's intent is to protect the most vulnerable. But Alderman says it's hard to draw the line where vulnerability ends when it comes to people experiencing homelessness.
"If they're 45 years old, they oftentimes present medically as 65 years old because of the toll that living outside and being homeless has taken on their health," she said.
Her organization and their partners want to see the program expand — hopefully by a lot.
"We would like to bring as many hotel and motel rooms on to serve the need as we can," Brodzynski said, "We estimate that we could use 3,000 motel hotel rooms to help serve people experiencing homelessness (in Denver)."
One major problem hindering a full rollout of protective action rooms to the entire Denver homeless community is that many motel and hotel operators have not been cooperative.
Earlier this month, Gov. Jared Polis and Denver Mayor Michael Hancock both issued open letters to hotel operators imploring them to make their rooms available to help people experiencing homelessness during the pandemic crisis. Not nearly enough have opted in.
On April 4, 18 state and city lawmakers urged Gov. Jared Polis to "make hotels and motels available to house people who have nowhere else to go to isolate/quarantine."
Craig Konnoth, an associate professor of law at University of Colorado Boulder specializing in property law, confirms that the governor has the authority to commandeer hotel rooms during an emergency situation like the coronavirus pandemic under the Colorado Disaster Emergency Act, which "basically requires the governor to compensate individals if he uses their property, but the governor can use the property if he finds it is necessary to do so."
There's also the softer approach. "Providing incentives might be a really good way to do it," Alderman suggests, because "if we really want to encourage participation, we might have to do more than just ask."
Alderman is also thinking ahead to the time when the threat of coronavirus dies down and the protective action rooms are decommissioned.
"We certainly don't want to discharge people back into onto the streets," she said. "We're talking to the city and hoping to have conversations with our state government about how can we put some sustainable systems in place to make sure that we're resolving homelessness in addition to addressing the crisis."