Colorado Edition: Worn And Sworn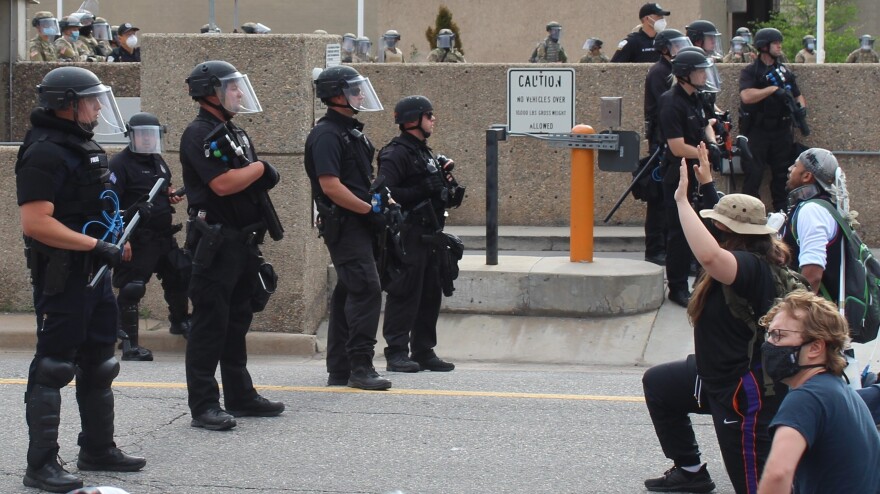 Today on Colorado Edition: We take a deep dive into police-worn body cameras. We also hear from Colorado's Speak of the House about her time with the legislature. Plus, we learn about ranked choice voting and examine what we can learn about the coronavirus pandemic from a board game.
Police Body Cameras
Under Colorado's new police accountability law, officers statewide must wear body cameras by July of 2023. Sometimes those cameras capture difficult moments, like police shootings. But people can see the same video and reach different conclusions about whether the actions were justified or not. KUNC's Michael de Yoanna has more on the impact of body-worn cameras. And a word of warning - this story contains the sounds of gunshots.
Exit Interview With Colorado's Speak of the House
Democrat KC Becker of Boulder is nearing the end of her two year tenure as Colorado's Speaker of the House. And it's been an eventful time at the Capitol. Becker led a historic effort to expel a fellow lawmaker for sexual harassment. And this month, she presided over what many are calling the strangest legislative session in history. KUNC's Scott Franz recently spoke to Becker about her legislative experience and what the chances are for a special session this summer.
Ranked Choice Voting
In the past several years, Colorado has developed a reputation for progressive election innovations meant to boost voter access. The state has been a pioneer in voting by mail. Today, we're going to examine another potential election innovation that's being considered in the state: ranked choice voting.
Joining us to walk us through the concept is Linda Templin. She's the executive director of Ranked Choice Voting for Colorado, a group that advocates for this voting method.
What Can We Learn From A Board Game?
Can a board game help us understand the coronavirus pandemic we're currently living through? Maybe. Maybe not. But it might help us better understand the difficulties facing researchers and epidemiologists on the front lines of the pandemic. KUNC's Sere Williams brings us the story.
Colorado Edition is made possible with support from our KUNC members. Thank you!
Our theme music was composed by Colorado musicians Briana Harris and Johnny Burroughs.
Colorado Edition is hosted by Erin O'Toole (@ErinOtoole1) and Henry Zimmerman (@HWZimmerman), and produced by Lily Tyson. The web was edited by digital editor Jackie Hai. Managing editor Brian Larson contributed to this episode.
KUNC's Colorado Edition is a news magazine taking an in-depth look at the issues and culture of Northern Colorado. It's available on our website, as well as on iTunes, Google Play, Stitcher, or wherever you get your podcasts. You can hear the show on KUNC's air, Monday through Thursday at 6:30 p.m.