KUNC's guide to Election 2012 in Colorado and the Colorado vote. Additional guides include a detailed look at Amendment 64, Amendment 65, and a look at Amendment S. You can find our archive of national election coverage here.
Coffman, Miklosi Spar on Social Issues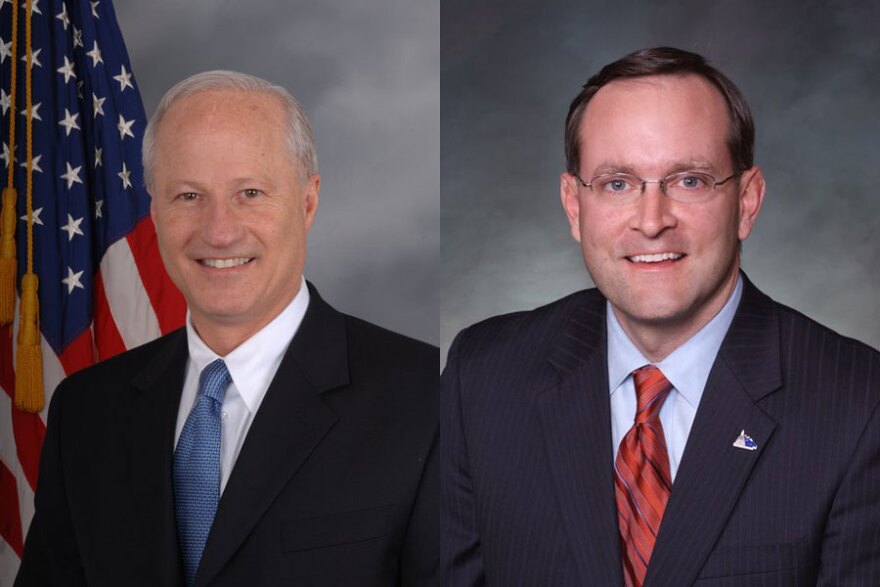 Former Democratic state lawmaker Joe Miklosi went on the attack against Republican Congressman Mike Coffman during a short debate Friday afternoon sponsored by 9 News and the Denver Post with some of the more testy exchanges coming on social issues.
At several points, Democrat Miklosi tried to paint Republican Congressman Coffman as radical on social issues, due in part to his support of a so-called Personhood Amendment.
"And he co-sponsored a bill with Congressman Akin of Missouri to redefine rape," Miklosi said. "That may not be radical in his viewpoint but for most voters in Colorado, that is."
At issue was the No Taxpayer Funding for Abortions Act, which originally was written to include an exemption only for "force-able" rape.
"That was an error on my part," Coffman said. "When we discovered that that was in there, I supported that amendment to take that language out."
The 6th Congressional district in Aurora is one of only a couple US House races seen as competitive this year in Colorado.
Coffman and Miklosi also sparred on Medicare and the looming fiscal cliff, though Coffman predicted both parties would come together for a compromise to prevent it during the upcoming lame duck session.
The first question the two men faced was on gun-control, of particular interest in the newly redrawn 6th CD which includes the movie theater where last July's mass-shootings occurred.
Miklosi said he supports the 2nd Amendment, but Congress should consider tightening gun-control in the wake of the tragedy.
"I do support reinstating the Clinton-era semi-automatic weapon ban," he said. "And why do we need 100 round clips, it's like allowing a tank to drive down Colfax Avenue."
Coffman said he wants to see a review of the events leading up to the shooting to see whether more could have been done to prevent the tragedy, but he said he doesn't support reinstating the assault weapons ban.
"But I do believe that we have a responsibility to make sure that firearms are kept out of the hands of criminals and those who are mentally unstable," Coffman added.