Colorado Edition: As One Race Ends, Another Kind Begins
Today on Colorado Edition: former Colorado Gov. John Hickenlooper has announced the end of his presidential campaign. We talk about what's next for him, and all the money he raised during the race. Plus, despite marijuana's legal status in the state, the black market is still booming. Finally, we'll discuss how an ultra-marathon saved a mountain town.
What's Next For Hickenlooper, And His Money?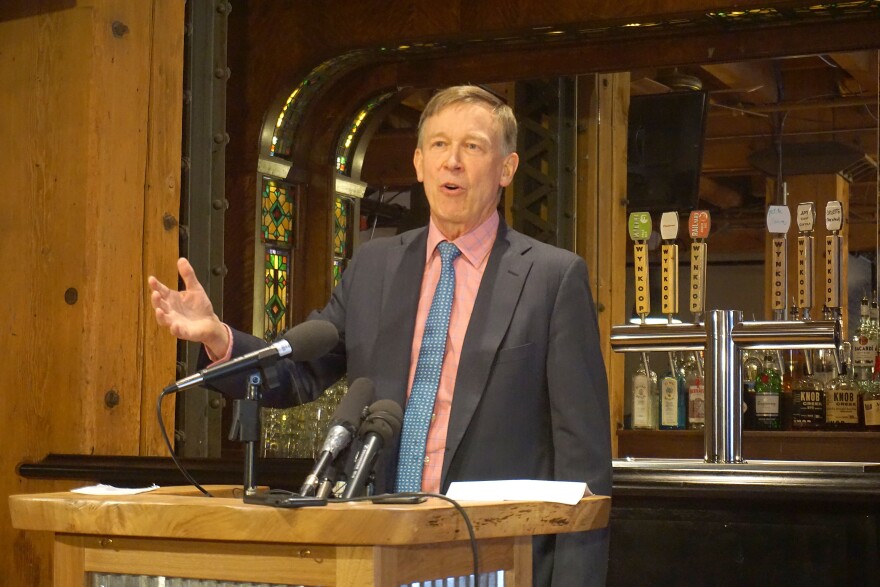 Former Gov. John Hickenlooper ended his bid for the Democratic presidential nomination in a three-minute video that came out on Thursday.
Sitting on the steps of a porch, with an American flag in the background, Hickenlooper reiterated some of the reasons he got into the race, thanked his family and donors, and left the door open for his political future, saying he will give "some serious thought" to a campaign for U.S. Senate.
KUNC reporter Matt Bloom joins us to discuss why Hickenlooper's campaign failed to gain momentum.
And, what happens to all the money Hickenlooper raised during his presidential run, but didn't spend? KUNC's Michael de Yoanna has been looking into that question, and joins us to discuss what he found.
Colorado's Illegal Marijuana Market
When Colorado voters legalized recreational marijuana in 2012, advocates said it would wipe out the underworld of drug dealers. But in the past few months, Fort Collins police have seized hundreds of illegally grown marijuana plants. As KUNC's Esther Honig reports, the black market is now so big it's stealing business from legal cannabis sellers.
How A Race Transformed A Mining Town
You may think running 100 miles sounds hard. Now imagine doing that at 10,000 feet above sea level. That's what runners at this weekend's Leadville Trail 100 can expect. But that doesn't stop hundreds from competing. And this race isn't just famous for how physically demanding it is. It's also known for how it helped to transform its hometown of Leadville, Colorado.
Ken Chlouber, the founder of the race, joins us to discuss its history.
Colorado Edition is made possible with supports from our KUNC members. Thank you!
Our theme music was composed by Colorado musicians Briana Harris and Johnny Burroughs. Other music this week by Blue Dot Sessions:
"Lancashire" by Confectionery
"When In The West" by Landsman Duets
Colorado Edition is hosted by Erin O'Toole (@ErinOtoole1) and Henry Zimmerman (@HWZimmerman), and produced by Lily Tyson. The web was edited by digital editor Jackie Hai. News director Catherine Welch and managing editor Brian Larson contributed to this episode.
KUNC's Colorado Edition is a daily news magazine taking an in-depth look at the issues and culture of Northern Colorado. It's available on our website, as well as on iTunes, Google Play, Stitcher, or wherever you get your podcasts. You can hear the show on KUNC's air, beginning Sept. 2, Monday through Thursday at 6:30 p.m.