Colorado Edition: Out Of The Ashes
Today on Colorado Edition: as the emerald ash borer spreads around Colorado, we learn about what the state is doing to stop it. And, 50 years ago, scientists in Colorado tried to drill for natural gas using a nuclear bomb. We look back at that history. We'll also learn about how Fort Collins is dealing with West Nile Virus. And we'll talk with Kali Fajardo-Anstine, author of the new short story collection, Sabrina & Corina.
News of The Day:
New State Park - Colorado is poised to get a new state park. Gov. Jared Polis signed an executive order this morning to establish the new recreational area, which will include an iconic mountain peak and lots of wildlife in Southern Colorado. The state and conservation groups are teaming up to buy the land near Trinidad. A visitor center and campgrounds will be constructed in the area. It will be Colorado's 42nd state park, and it's expected to open by January 2021.

Minimum Age For Vaping - State lawmakers are drafting a bill to raise the minimum age for vaping and tobacco products to 21. Some cities have already done that, including Boulder and Aspen. A 2018 study by the Centers for Disease Control and Prevention found Colorado has the highest rate of teen vaping in the U.S.

First Snow - Colorado's highest peaks and ski resorts have received the ceremonial first snow of the season. Snow fell in higher elevations in Breckenridge, Keystone and Crested Butte on Wednesday. Resorts across the state have opening dates scheduled for late October and November.
Emerald Ash Borer
On Wednesday, state experts confirmed that the invasive emerald ash borer was found in Westminster. This is the second time the insect has been found outside of the Boulder County federal quarantine. The first was when it was found in Broomfield. Now, state agriculture officials say they plan to cancel the quarantine by late fall.
Ash trees make up around 15% of Colorado's urban forests, so the impact is significant.
Laura Pottorff, the Plant Health and Certification section chief for Colorado, joins us to tell us more about the beetle, and what the state is doing to stop its spread.
Plus, even as the ash population is threatened in the state by this invasive beetle, at least the wood isn't going to waste. That's thanks to woodworkers like Evan Kinsley, who owns Boulder-based Sustainable Arbor Works. He joins us to tell us about his work with the ash tree.
Nuclear Fracking
Fifty years ago, near what's now the Western Slope community of Battlement Mesa, scientists tried to drill for natural gas using a nuclear bomb, a process known as nuclear fracking. The idea was seen as a potentially cheaper way to produce energy. But it failed when the gas from the site was too radioactive to sell. KUNC's Matt Bloom joins us to tell us more.
Mosquitos And West Nile Virus
In early September, Fort Collins began spraying for mosquitos after the city trapped a sample of mosquitos that contained high levels of West Nile virus. The city had initially made plans to spray again but cancelled after another sample showed a significant decline in infected mosquitos. Jacy Marmaduke has been covering the issue for the Coloradoan, and joins us to discuss.
Sabrina & Corina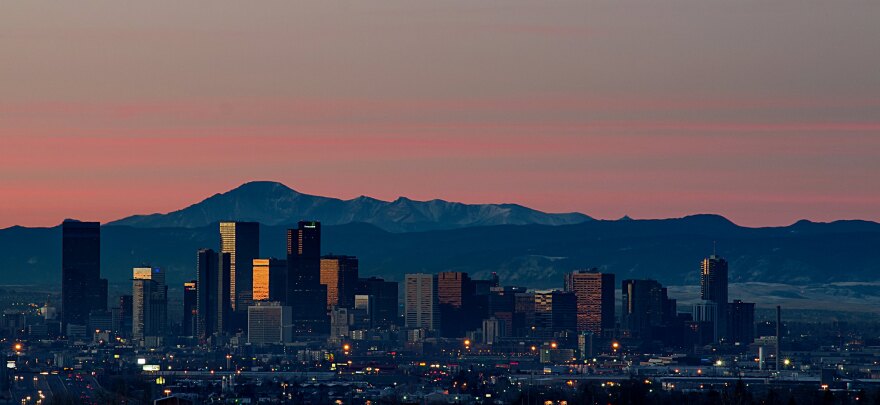 Kali Fajardo-Anstine joins us to discuss her new collection of short stories called Sabrina and Corina.
Fajardo-Anstine is speaking on Sept. 22, 2019 at the Denver Public Library, on Nov. 2, 2019 at the Loveland Public Library,and on Nov. 6, 2019 in conversation with Julia Alvarez in Denver. For more information, visit her website.
Colorado Edition is made possible with support from our KUNC members. Thank you!
Our theme music was composed by Colorado musicians Briana Harris and Johnny Burroughs. Other music this week by Blue Dot Sessions:
"Mineral Still" by Cholate
"Waltz for Zacaria" by Cholate
"Gaena" by Azalia
Colorado Edition is hosted by Erin O'Toole (@ErinOtoole1) and Henry Zimmerman (@HWZimmerman), and produced by Lily Tyson. The web was edited by digital editor Jackie Hai. News director Catherine Welch and managing editor Brian Larson contributed to this episode.
KUNC's Colorado Edition is a daily news magazine taking an in-depth look at the issues and culture of Northern Colorado. It's available on our website, as well as on iTunes, Google Play, Stitcher, or wherever you get your podcasts. You can hear the show on KUNC's air Monday through Thursday at 6:30 p.m.