Colorado Edition: Shine A Light On It
Today on Colorado Edition: we'll look at how wildfires are managed. Plus, we'll visit a Greek organization that prioritizes inclusivity for college students. We'll also discuss school count days in Colorado, and tour an exhibit about the history of beer in our state.
News of the Day:
Fundraising Numbers - The front-runners in Colorado's U.S. Senate race both say they raised more than $2 million during the latest fundraising period. Former Gov. John Hickenlooper says he raised $2.1 million in the first five weeks of his campaign. The average donation was $26. But Republican Sen. Cory Gardner, the incumbent in the race, still has the fundraising edge. He says he brought in more than $2.4 million in the past three months, and his campaign says he still has more than $6 million left to spend. Meanwhile, Hickenlooper is running in a crowded Democratic primary that features nine other candidates, including former Colorado House Speaker Andrew Romanoff. He and the other candidates haven't released their fundraising totals yet. They have until Oct. 15 to file their reports.

Longmont Considers Climate Emergency - The Longmont City Council will consider declaring a climate emergency at its meeting Tuesday night. The resolution calls on the council to convene a climate working group. It would look at ways to promote a carbon-free, sustainable city. Longmont has already set citywide goals of 100% renewable energy by 2030, but activists say that isn't enough. Boulder and Fort Collins have passed similar emergency resolutions in the past year.

Canine Cancer Vaccine - Researchers at Colorado State University are trying to determine if a vaccine could work to help prevent cancer in dogs. If the study is successful, researchers hope it could provide justification for looking at a similar approach in humans. Up to 800 dogs will be enrolled in the clinical trial, with some being administered a placebo. Two other universities, one in California, the other in Wisconsin, are also accepting dogs for the study.
Wildfire Management
A shot of a prescribed burn taking place earlier this year at the Fishlake National Forest in Utah.
Credit Desert Research Institute
Warm temperatures, low humidity and wind mean elevated fire danger today, especially in the high country. This comes as the Decker Fire south of Salida and the Middle Mamm Fire near Rifle continue to burn.
Over the past few weeks on the show, we've been bringing you reporting on how fires like these are managed, from new technologies to old techniques. But researchers are saying it might be time to re-think wildfire management practices. KUNC's Rae Ellen Bichell joins us to explain.
Greek Organization Prioritizes Inclusivity
Every fall, college freshmen across the country participate in a traditional event: rush week. But what if a student wants to join a Greek letter organization, but becoming a "brother" or "sister" doesn't fit? As KUNC's Stephanie Daniel reports, a group at the University of Colorado Boulder is making Greek life more inclusive.
School Count Days
Last week, school districts across the state performed an annual count of the students in their schools. Count Day, as it's known, is important because it determines the official enrollment numbers, which is used by the state to determine funding.
Erica Meltzer, Bureau Chief of Chalkbeat Colorado, joins us to explain the numbers.
The History Of Beer In Colorado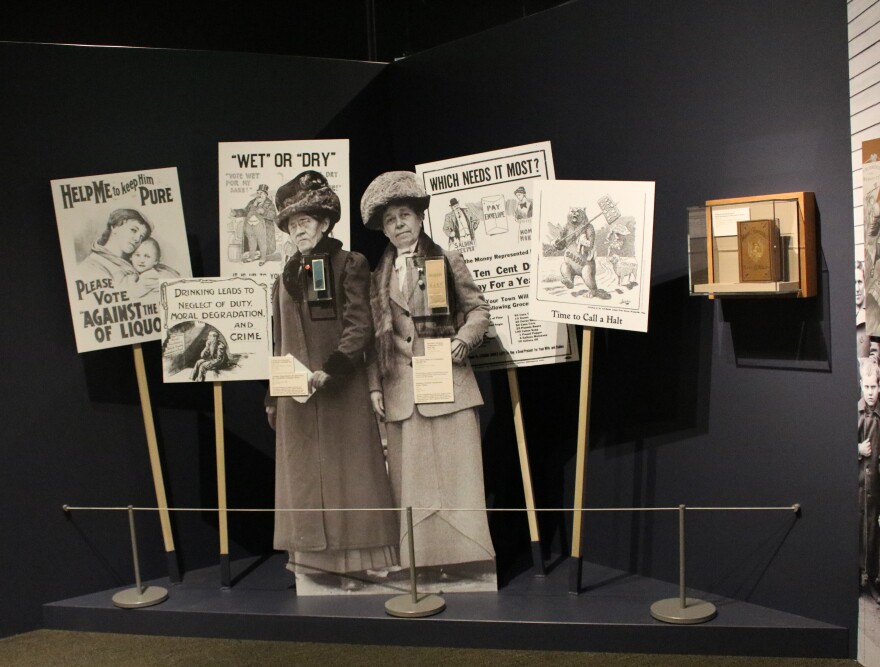 It's no secret that beer is popular in Colorado, a state with hundreds of established breweries. Over the weekend, people from all over the state, and all over the world, celebrated their love and appreciation for the fermented beverage at the Great American Beer Festival in Denver. But amidst the celebration was competition. At the end of it all, Colorado brewers walked away with 40 total medals, 13 of which were gold, in styles ranging from American-style IPA's to gluten-free beer.
But if you didn't make it out to the festival, or are just curious about how the histories of beer and our state are intertwined, there's an exhibit at History Colorado in Denver that can take you down that path. Our show producer Lily Tyson visited the exhibit, "Beer Here! Brewing the New West," and got a tour from Sam Bock, a public historian with History Colorado.
The exhibit is on view through August 2020.
Colorado Edition is made possible with support from our KUNC members. Thank you!
Our theme music was composed by Colorado musicians Briana Harris and Johnny Burroughs. Other music this week by Blue Dot Sessions:
"Bling Bong" by Ronnie Reverb
"Even Dreams of Beaches" by Resolute
This episode is hosted by Erin O'Toole (@ErinOtoole1) and Henry Zimmerman (@HWZimmerman). The show is produced by Lily Tyson. The web was edited by digital editor Jackie Hai. News director Catherine Welch and managing editor Brian Larson contributed to this episode.
KUNC's Colorado Edition is a daily news magazine taking an in-depth look at the issues and culture of Northern Colorado. It's available on our website, as well as on iTunes, Google Play, Stitcher, or wherever you get your podcasts. You can hear the show on KUNC's air, Monday through Thursday at 6:30 p.m.