Thursday Updates For The Black Forest Fire, Other Colorado Wildfires
With new evacuations overnight, firefighters continue to battle the Black Forest Fire while other fires in Colorado are seeing some containment or slower growth.
Editor's Note: On Tuesday, June 11, 2013 three new wildfires started, and another previously burning wildfire flared up. This post collects all of our updates from Thursday. Friday's updates and up-to-date information have moved to this post: Black Forest Fire Claims Two Lives.
Here's what we know about the fires right now:
Black Forest Fire: 15,700 acres, 5 percent containment, 360 homes lost (updated 5:21 p.m.)
Royal Gorge Fire: 3,162 acres, 20 percent containment, 20 structures - no homes (updated 10:06 a.m.)
Big Meadows Fire: 333 acres, no containment (updated 11:27 a.m.)
Kilkus Fire: 42 Acres, 75 percent contained (updated 3:55 p.m.)
Updates and additional information can be found at wildfire.kunc.org.
Update 7:05 p.m. - This will be our final update of the evening, we will continue monitoring the fires across the state and will update if there any significant updates. Coverage will resume tomorrow with updates always at wildfire.kunc.org.
Update 6:05 p.m. – More from the Black Forest Fire evening briefing. Since the remains were discovered they now have a criminal investigation and the coroner will investigate and identify so that they can notify next of kin. Sheriff Maketa led the media brief off with the bad news and painted the scene this way:
"We began conducting a search, around 2 o'clock this afternoon, between 2 and 2:30, we were able to identify the remains of one individual. An hour later we a second individual," said Maketa. "We do have witnesses who spoke to these two people. One at around 4:20, and they said that they could see a glow to the west, they were packing their personal belongings, trying to get out. At 5 o'clock there was another phone conversation, the person that they were speaking with said he could hear popping and cracking in the background and they advised they were leaving now."
The area where they were found is heavily wooded and Maketa said that the individuals were found in a garage with open car doors.
The Sheriff had no update on the number of homes lost, the earlier count of 360 homes lost still stands. Maketa is 'optimistically hopeful' that no additional houses were lost Thursday saying "if we did lose any, it was very few." There will be a night shift working Thursday that will be stronger that the crew that worked overnight Wednesday.
Update 5:21 p.m. – Black Forest Fire: Sheriff Terry Maketa delivered some bad news at the evening briefing, saying that the remains of two individuals have been recovered. The individuals were packing to evacuate and were in a heavily wooded area of Black Forest.
The Black Forest Fire now stands at 15,700 acres and they have achieved some containment, 5 percent. There are now two deaths in addition to the previously announced 360 homes lost.
Update 4:35 p.m. - We're expecting a media briefing at 5 p.m., we'll post more updates following that. You can stream the briefing live via 7News.
Update 3:54 p.m. - Klikus Fire: The Denver Post reports that the Kilkus Fire is now 42 acres and 75 percent contained.
Update 2:58 p.m. – An update from Reporter Nathan Heffel on the Black Forest Fire:
Sections of Colorado Springs are now under mandatory evacuation as officials remain concerned the Black Forest wildfire will continue to grow.
Colorado Springs Police Chief Peter Carey says there are thousands of people being forced to leave the area. "So give or take I would estimate with about 1,020 private homes about 3,000 people or so," said Carey. "And again I have officers already set up in the areas helping with traffic control and we will be very vigilant."
Firefighters report that smoke is billowing west into the Flying Horse neighborhood which is now in the mandatory evacuation area. Colorado Springs Interim Fire Chief Tommy Smith says incoming weather forced the evacuations. "And in the next two hours there's a possibility of a thunderstorm coming in, and with the weather that we're having and the weather that is being predicted we just want to make sure we get out in front of this thing early and therefore we're issuing a mandatory evacuation," said Smith. "So please, leave as quickly as possible and as orderly as possible."
Update 2:42 p.m. - Kilkus Fire: In a bit of good news, we are apparently close to having one less fire to worry about. The Denver Post is reporting that the Kilkus Fire is "close to being fully contained."
Update 2:12 p.m. - Black Forest Fire: Here's the map of the new mandatory evacuation zone in Colorado Springs, it is highlighted in RED. The YELLOW is the voluntary evacuation area.
Update 2:01 p.m. – Black Forest Fire: New mandatory evacuations have been announced for northern Colorado Springs. Here's the new evacuation area: Northern Boundary is North Gate and Old North Gate Road; Southern Boundary: Flying Horse Club Drive (to include homes south of Flying Horse Club Drive on Barossa Valley Road and Veneto Way)/Vine Cliff Heights/Equinox Drive/Serenity Peak Drive; Eastern Boundary: Highway 83; Western Boundary: Voyager Parkway.
Update 12:46 p.m. - Black Forest Fire: If you missed the media update from earlier Thursday, the Associated Press has posted this video, which includes some flyover footage from 7News' helicopter. This clip focuses on Sheriff Terry Maketa's relaying of the latest fire stats, including the 360 homes lost.
Update 12:06 p.m. - We've posted a photo captured by NASA Wednesday Tuesday of the Black Forest Fire; it's a closer shot than the sat photo we posted from Wednesday from NASA showing off the six major fires burning in Colorado and New Mexico. (Ed Note: edited for clarity)
Update 11:27 a.m. - Big Meadows Fire: We've just received an accurate size on the Big Meadows Fire from the Forest Service. The new size is 333 acres, this is a change from the previous estimate of 600 acres. As we noted earlier, they were performing an IR flyover, getting an accurate assessment of the size of the fire.
Update 11:20 a.m. - Black Forest Fire: Some good news in light of the sobering number of homes lost in the fire. The El Paso County Sheriff tweeted that the one reported missing person in the fire has been found safe.
Update 11:11 a.m. – Big Meadows Fire update via Erin O'Toole:
The Big Meadows fire burning in Rocky Mountain National Park grew to 600 acres Wednesday night. Winds were not as strong yesterday, which helped slow the fire's growth and allowed crews to fly over and assess the blaze. There are 107 firefighters currently on the fire, plus the Type II team that is expected to take over command Thursday.
Firefighters are struggling to keep the blaze from crossing the Continental Divide. The plan is to hold the fire east of Trail Ridge Road, west of the Divide, and north of Tonahutu Creek.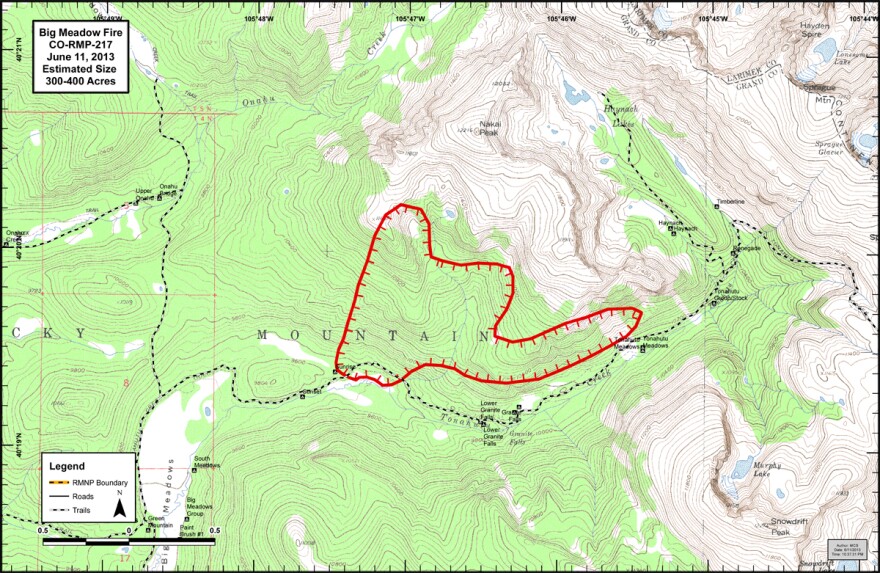 Water officials are increasingly concerned about the fire's impact on Front Range water supplies.
"We've been saying for a couple of years now that we have some real concerns with our West Slope watershed and all the dead trees, the beetle-killed trees, and what happens if there's a fire over there," says Brian Werner with the Northern Colorado Water Conservancy District. He adds that the impact of the Big Meadows Fire could be substantial.
"Big picture – is that it could impact the water supply for 860,000 people in northeastern Colorado who get all or part of their water supply from the Colorado-Big Thompson project," said Werner.
Update 10:44 a.m. – More from the Black Forest Fire briefing: "We know where the fire is burning within, we're not confident that if the winds changed and pushed the fire to any one of our boundaries that it could be held," said El Paso County Sheriff Maketa. That was Maketa's statement in answering a question about any initial figures on containment. It also is a testament to the respect that fire officials are giving to weather conditions, especially the wind.
As we updated earlier, 360 homes have been lost in the blaze. El Paso county has posted an updated list of homes lost, partially damaged or unaffected [.pdf]. Officials warn that because of 'dynamic fire activity' the list could change. "Homes we knew that were standing yesterday, I personally witnessed go down last night," said Maketa.
Update 10:05 a.m. – Black Forest Fire: Conditions overnight greatly expanded both the fire and the evacuation area. Speaking at the morning briefing Sheriff Terry Maketa said "Wind is probably our number one threat. It is what has been the game changer, it is what has changed the conditions."
The evacuation area covers over 94,000 acres with a population of 38,000 people and 13,000 homes. 15,000 acres have burned, 360 homes have been lost.
"The winds yesterday really stirred the fire and pushed it off in quite a few different directions," said Maketa. The evacuation area is very broad and it is precautionary Maketa noted. "We saw areas that had burned two days ago actually flare up and become very, very active and at points so hot they couldn't get close enough to get into these areas."
Conditions Thursday morning are calm, so aircraft are flying but winds are expected and it is another red flag day. The Type 1 Management Team took control of the fire at 6 a.m. Thursday bringing in direct access to national resources. Officials are not at a point where they can declare any containment.
Update 9:24 a.m. - Black Forest Fire: We learned at the briefing that the fire has blackened 15,000 acres and that 360 homes were a total loss.
Update 8:39 a.m. – With multiple fires burning in the state, and across the southwest, resources are stretched. As we saw with last year's fires like the High Park or Waldo Canyon, various departments are pulling together to help fight the fires. Thursday morning we're seeing reports that agencies are lending resources to the Black Forest Fire. 9News is reporting that the two fire engines from the Air Force Academy are fighting the fire, part of an agreement formed after the Waldo Canyon Fire.
Help has even come from as far away as Routt County, the Steamboat Today said Wednesday that a Steamboat Springs Fire Rescue Type 1 engine and four firefighters left to help. If you're unfamiliar with the geography, Routt County is in the northwest corner of Colorado, about a 220 mile drive depending on your route.
There is a media briefing for the Black Forest Fire coming up at 9 a.m., we'll have more information on the status of the fire soon.
Update 7:54 a.m. - Black Forest Fire: To get an idea on the growth of the fire overnight, here's a picture posted to Twitter by Andrea Sinclair of the Gazette. You can see the lights of Colorado Springs in the foreground, in the background the glow of the Black Forest Fire.
Update 7:41 a.m. - Black Forest Fire: KKTV News posted the latest mandatory evacuation area map on Twitter, including the pre-evacuation and voluntary evacuation areas.
Black Forest Fire
Conditions continue to fuel the Black Forest Fire which has claimed 92 homes. The preliminary list of homes is available online here [.pdf]. Thursday's weather forecast is foreboding, with a high of 91°, westerly winds and a red flag warning. The fire forecast for Colorado Springs area is 'high' to 'very high.'
The Great Basin Incident Management team has assumed command of the Black Forest Fire. The Great Basin Incident Management team, and commander Rich Harvey, are familiar faces for Colorado Springs; they were the incident management team for 2012's Waldo Canyon Fire.
The mandatory evacuation zone continues to border Walker/Evans Road to the North, Highway 83 to the west, Eastonville Road to the east and Burgess Road/Rex Road to the south. As of Wednesday night the following area are under pre-evacuation according to El Paso County:
Area 1 - Burgess Road south to Stapelton Drive, and Vollmer Road east to Meridian Road.
Area 2 - Latigo Blvd. south to Stapelton Drive, and Meridian Road east to Highway 24.
Area 3 - Guy Ranch Road south to Stapelton Road, and Eastonville Road east to Elbert Road.
Area 4 - Burgess Road south to Old Ranch Road and Poco Road, and Milam Road east to Vollmer Road.
The Gazette has a map updated with the mandatory and pre-evacuation areas.
Royal Gorge Fire
The Gazette writes that 20 structures were lost in the fire, including the aerial tram at the Royal Gorge Park. The popular Royal Gorge Bridge appears unharmed, but will still need to be assessed. Fire Officials note they have made good progress against the blaze and with no injuries.
A Type 2 Incident Management Team is taking control of the still actively burning fire Thursday.
Kilkus Fire
The Denver Post is reporting that the southernmost fire in Colorado is now 75 percent contained and remains at 60 acres.