Colorado Edition: The Results Are In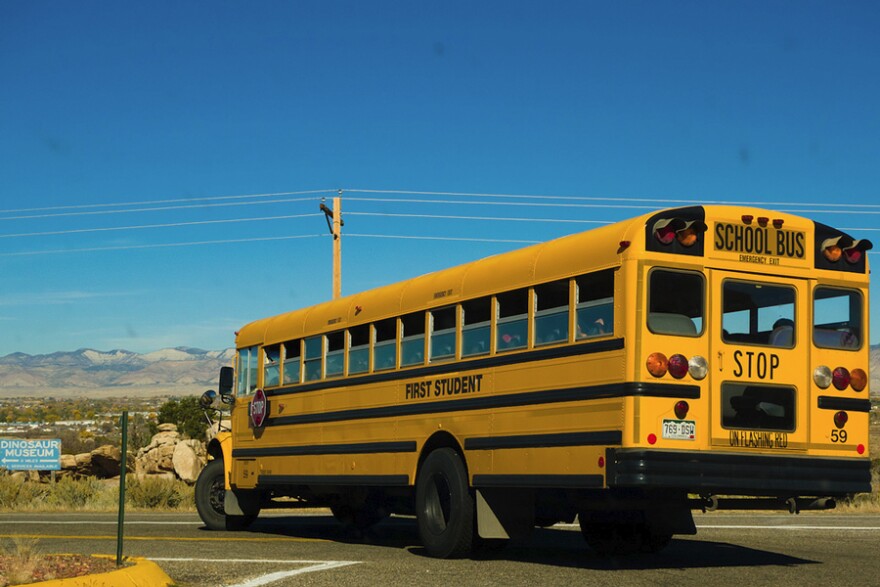 Today on Colorado Edition: a new poll looks at how Americans feel about red flag legislation. We'll look at the numbers and what they mean for Colorado. Plus, we dive into the state's standardized test score data and meet a sculptor in Loveland hoping to break the bronze ceiling with a work dedicated to the suffragette movement. Finally, we'll celebrate National Radio Day.
News of the day:
Stapleton - Residents and businesses in Denver's Stapleton neighborhood have voted not to change the neighborhood's name. Some advocates had called for the name change, citing its namesake's historic association with the Ku Klux Klan. One of those groups, Rename Stapleton for All, said in a statement that they were disappointed but not surprised by the results. They say the outcome of this vote, and of a recent incident of racist graffiti in a neighborhood park, point to a real need in Denver to educate the public about the role of the KKK in Colorado politics. The results were 65% against the name change and 35% in favor, with about 34% turnout.

Tree Deaths - A new report out this month finds invasive insects and diseases are killing millions of trees each year in forests across the U.S. Randall Morin, a co-author of the study, says this proliferation of invasive pests impacts forests' natural ability to store carbon, which can help fight climate change.

Emerald Ash Borer - The invasive emerald ash borer appears to be on the move. Forestry officials say they've found the insect in trees in Broomfield. Tom Wells, a forester with the city and county, says it's the first confirmation outside a federal quarantine in Boulder County. Wells says he's responding by removing public ash trees at risk of infestation and urging residents to get their own trees inspected. The highly destructive pest has been in the state since 2013. Once it shows up in a tree, the tree usually dies within two to four years.

Rateliff Launches Cannabis Collection - The Denver-based band Nathaniel Rateliff and the Night Sweats is launching a special edition cannabis collection. It's under Willie's Reserve, a cannabis brand owned by country legend Willie Nelson. It's going to be called the "Nighstache Collection." Rateliff said he hopes to use the line, in part, as a way to advocate for the cannabis industry. He also wants to help those still in prison for marijuana crimes.
Poll Shows Support For Red Flag Laws
Mass shootings in El Paso, Texas and Dayton, Ohio have revived interest in so-called "red flag" legislation. Also known as extreme risk protection orders, these laws allow family members or law enforcement to petition a judge to temporarily remove guns from a person who is seen to be a risk to themselves or others.
And now there is a new poll that looks at how widely these laws are supported and opposed nationally, from the American Public Media Research Lab and our partners at Guns & America.
KUNC reporter Leigh Paterson joins us to discuss the results.
Phillips 66 Property Update
On Wednesday, we brought you the story of an undeveloped piece of land off Highway 36 in Louisville. As of last night, there have been some updates to the future of the land. To learn more, we spoke with Lucas High, a reporter for BizWest.
Test Scores
Each year, the state releases standardized test score data. It's used for things like statewide accountability, legislation, and of course, to provide a snapshot of where Colorado's students are at academically.
We speak with Chalkbeat Colorado's Erica Meltzer and KUNC's Stephanie Daniel about the data.
Suffragette Sculpture
On Aug.18, 1920, the 19th Ammendment was ratified, giving women throughout the United States the right to vote. Almost 100 years later, a Loveland sculptor says it's an event worth celebrating and commemorating, and she's hoping to convince some in Washington D.C. of it too. KUNC arts reporter Stacy Nick reports.
Celebrating National Radio Day
To celebrate National Radio Day, we went around KUNC and asked our colleagues about what radio means to them.
Colorado Edition is made possible with supports from our KUNC members. Thank you!
Our theme music was composed by Colorado musicians Briana Harris and Johnny Burroughs. Other music this week by Blue Dot Sessions:
Waypost by Desert Kalimba
Lupi by Orange Cat
The Cornice by Confectionery
Colorado Edition is hosted by Erin O'Toole (@ErinOtoole1) and Henry Zimmerman (@HWZimmerman), and produced by Lily Tyson. The web was edited by digital editor Jackie Hai. News director Catherine Welch and managing editor Brian Larson contributed to this episode.
KUNC's Colorado Edition is a daily news magazine taking an in-depth look at the issues and culture of Northern Colorado. It's available on our website, as well as on iTunes, Google Play, Stitcher, or wherever you get your podcasts. You can hear the show on KUNC's air, beginning Sept. 2, Monday through Thursday at 6:30 p.m.