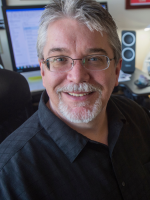 Brian Larson
News Director
Email: brian.larson@kunc.org
I oversee KUNC's growing staff of reporters, assigning and editing the stories that you hear on your radio and in our podcast, Colorado Edition.
I'm one of the old-timers at KUNC, joining in 1993 as the local host of All Things Considered. Since then, I've worked through every job in the news department from host to reporter, news director and now managing editor.
Over the years, my work has received numerous awards from organizations like the Colorado Broadcasters Association, the Associated Press and the Society of Professional Journalists. I'm proud to have played an integral role in elevating KUNC's reporting work to the level of national recognition and training reporters that have moved on to other media careers including NPR.
When I'm not working, which my wife Tanya says I do all the time, I enjoy spending time with her fixing up our yard and home, playing guitar and getting out for the occasional round of golf.

As the 20th anniversary of 9/11 approaches, Colorado Edition's Erin O'Toole spoke with KUNC news director Brian Larson about his experience covering commemoration events in the first few years after the attack.

In the months following the Sept. 11 attacks, several steel beams from the World Trade Center were sent to the National Institute of Standards and Technology in Maryland and Colorado for testing to better understand why the towers came down. Nineteen years ago, not long before the first anniversary of 9/11 in 2002, KUNC's Brian Larson visited NIST's Boulder facility to hear from the engineers tasked with testing the steel.

The 2018 election is Tuesday, Nov. 6. Among the local and statewide ballot questions, Colorado voters will also choose a new governor. With early voting…

A steady stream of ballots has been flowing into the Secretary of State's office since early voting began in mid-October. Now with just over a week until…

The Radio Television Digital News Association has recognized the KUNC newsroom with two regional Edward R. Murrow Awards for excellence in journalism. The…

The KUNC newsroom was recognized with 3 Major Market awards for 2015 by the Colorado Broadcasters Association at their annual Awards of Excellence Banquet…

From a national perspective, 2014 is seen as an election in which voters expressed their frustration with Democratic President Barack Obama and gridlock…

A judge has ruled that a voter approved moratorium on fracking in Fort Collins violates state law.The industry group Colorado Oil and Gas Association sued…

Weld County District Attorney Ken Buck emerged as the winner in Tuesday's four-way primary election to become the Republican candidate in the 4th…

KUNC's news staff has been recognized with five Associated Press Television-Radio Association awards including a first place for Best Coverage of an…